Join us this year as we stand with our neighbors for the safety of our waters and the health of our communities.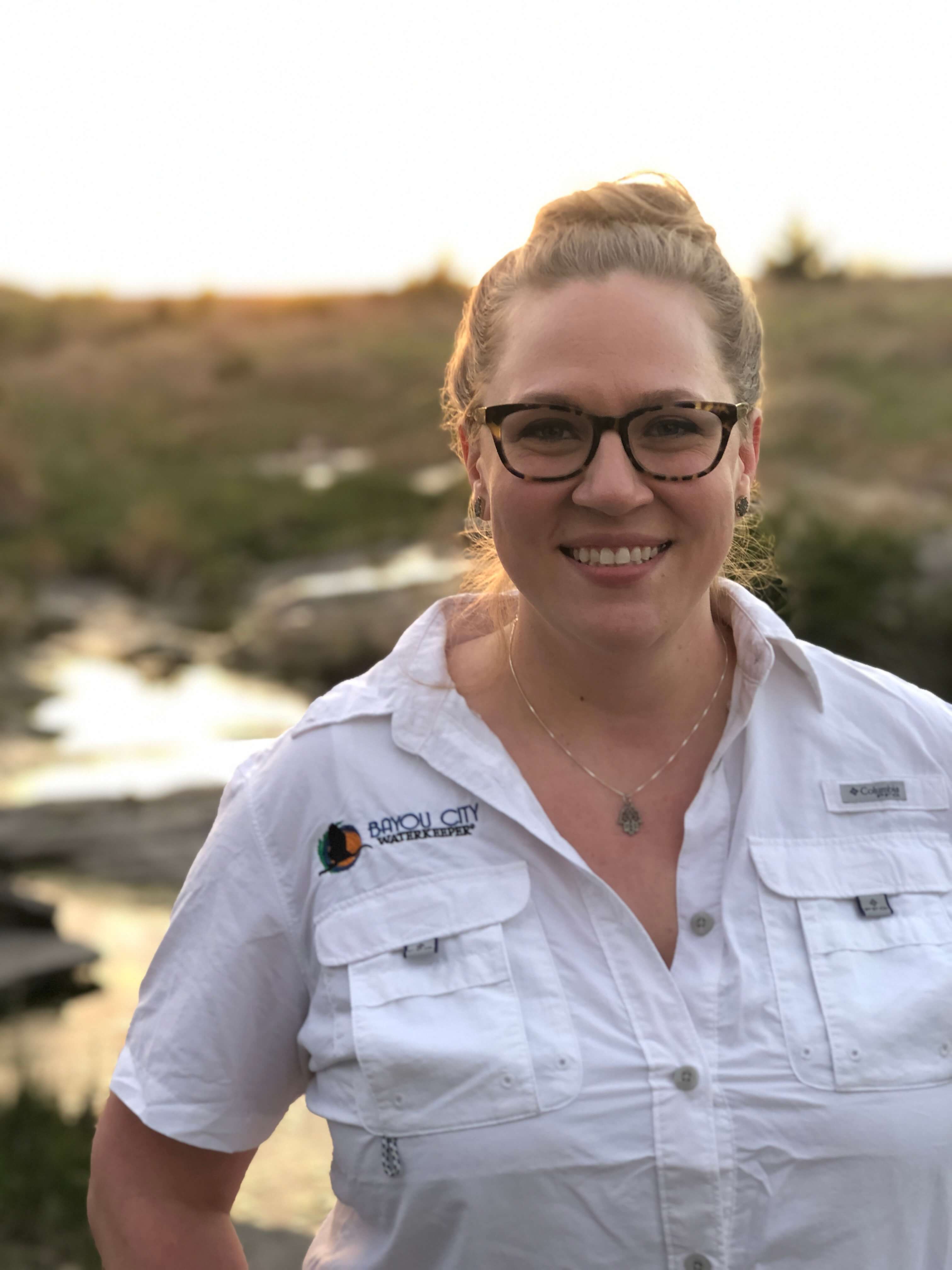 Friend, I hope this finds you well as Spring blooms in our watershed! We've been busy these last few months: welcoming new staff, board members, and fellows and interns, addressing challenges related to February's winter storm, standing up for the protection of Galveston Bay and coastal prairie wetlands, and beginning a transition as I say goodbye to Bayou City Waterkeeper.

I'm so proud of the work our organization has achieved over the years. When I joined Bayou City Waterkeeper in 2017, we knew that to improve our region's waterways we needed to tackle one of its largest sources of pollution: the City of Houston's aging sanitary sewer system. The following year, we filed our lawsuit against the City for over 9000 illegal sewage discharges into our waterways. I'm happy to share the news that last week the U.S. District Court for the Southern District of Texas approved a $2 billion plan, which allocates funds to fix Houston's sanitary sewer system over the next 15 years.

This $2B consent decree marks the first step in alleviating Houston's long-standing system failures, but it misses an important opportunity to make meaningful investments that address the infrastructure inequities experienced by lower-income communities and communities of color. We're committed to holding the City accountable over the next 15 years of this consent decree and beyond, ensuring that communities and their waterways are healthy and safe.
It has been an honor to be your Waterkeeper these last four years, and look forward to what the next chapter will bring! Our board of directors is currently in the process of hiring the next Executive Director, and we are excited that our Legal Director, Kristen Schlemmer, will take on the mantle of Waterkeeper for the Lower Galveston Bay Watershed.
Thank you for being part of this current of meaningful change.
For Our Waters,
Jordan Macha
Executive Director & Waterkeeper
Court Approves City of Houston's $2 Billion Wastewater Consent Decree
In 2018, we sued the City of Houston for illegally releasing sewage into our bayous. As a result of our efforts, the City of Houston will invest $2 billion to upgrade its sanitary sewer system over the next 15 years. The federal court's order draws to a close years of litigation over thousands of Clean Water Act violations caused by the City of Houston's sanitary sewer system.
This represents an important step toward a real solution to the sewage problems we see and smell across the city after every major rain. However, it doesn't do enough to help our low-income neighbors who deal with sewage backing up in their homes on a regular basis.
Opinion: Reliable Water is a Right
Houston, Don't Miss This Chance
Printed on February 24, 2021 in the Houston Chronicle, Legal Director, Kristen Schlemmer writes, "The city has a choice to make: Will it rest on a settlement negotiated with an administration that spent four years eliminating water protections and increasing threats to public health? Or, as residents across the city work to repair their pipes and increasingly look to the city for help, will the city prioritize clean, reliable water for all and deliver the program it promised nearly three years ago? The choice should be obvious."
Welcome our Our Watershed Specialist: Mashal Awais!
We are excited to announce that Mashal Awais joined the team as our Watershed Specialist! For several years, Mashal has worked with communities around the Greater Houston area, including the The Coalition for Environment, Equity, & Resilience, West Street Recovery, Houston Climate Movement, and Texas Environmental Justice Advocacy Service (t.e.j.a.s), advocating for communities' right to clean air and water.
Interested in the intersection of ecosystem conservation and our built environment, Mashal is excited to explore sustainable solutions to protect our habitat and advance the regional vision of just and resilient communities. Join us in welcoming Mashal to the team!
$1.4 Billion Shortfall in Harris County Flood Bond Project
In early March, Harris County revealed a $1.4 billion shortfall in funding for flood control projects under the bond program voters approved in 2018. Most of the projects that lacked funding were in the northwest portion of the county, including the San Jacinto, and Halls and Greens Bayou watersheds. This massive miscalculation threatens to cause construction delays and cost taxpayers more than expected, and continues the pattern of inequity and disenfranchisement of communities of color throughout our region.
Say Hello to Our Newest Board Members
In January 2021, we were excited to welcome three new members to our Board of Directors! Help us welcome Phil Beckett, Lindsay Dofelmier, and Libby Viera-Bland. We're thrilled to have them join the leadership team as we update our five-year strategic plan and finalize the search for our new Executive Director in the coming months.
We also want to express gratitude to the amazing leadership and years of service of our previous board members: Joe Liggio, Jen Powis, and Sharron Stewart. Thank you for the vision, passion, and leadership that each of you brought to Bayou City Waterkeeper.
A Warm Welcome to Our Spring Legal Interns!
Throughout the year Bayou City Waterkeeper hosts law, policy, and science-minded students to help with our research, investigation, and analysis of issues affecting water quality, wetlands, and resilience to flooding and climate change across the greater Houston-Galveston region.
This semester, we are joined by Bella Cherry, a 2L from South Texas College of Law, Noorulanne Jan, a 3L from University of Texas School of Law, Eric Lee Chee, a 3L from Vermont Law School, and Camilla Morrison, a 3L from St. Mary's School of Law.
Friend, your support is working for a healthier watershed from our headwaters down to the baywaters. At the end of 2020, with the help of supporters like you, we not only matched our end of year gift but exceeded our goal by raising over $26,000! Your support helped to...
Protect vital wetlands and coastal prairies from destruction
Provide technical, policy, and legal support to communities at risk from flooding, climate impacts, inequitable policies, and pollution.
Hold polluters accountable and work towards cleaner water today and for generations to come.
Thank you!